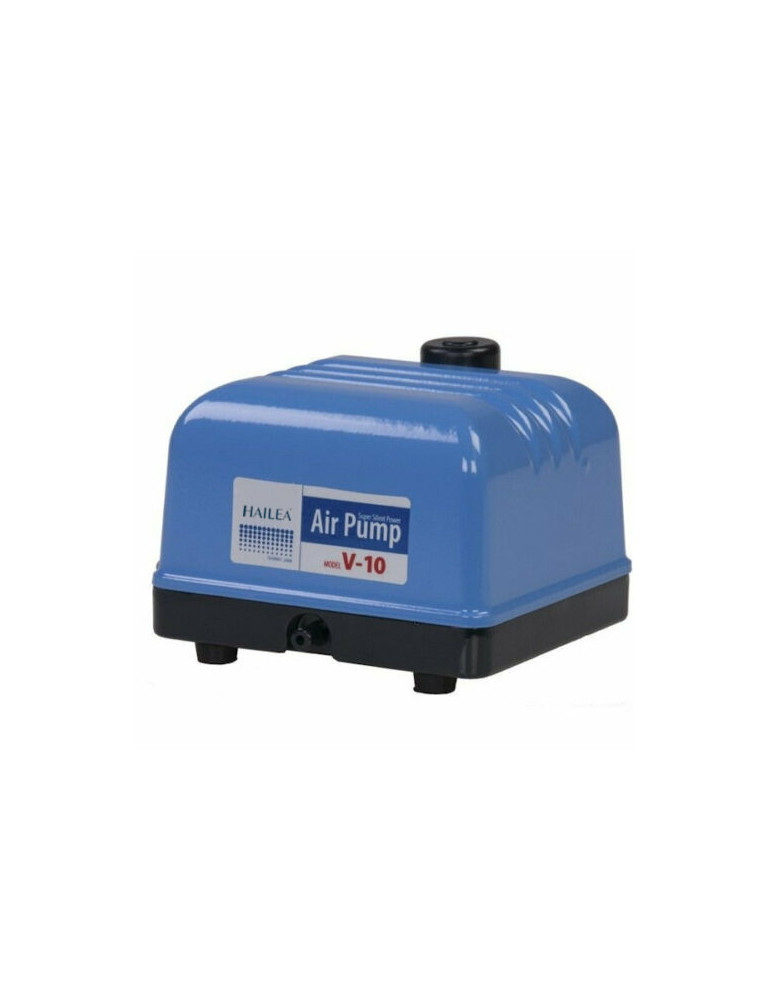  
Hailea V10 (10 L/min) Diaphragm Air Compressor Pump
VAT included
Model Number:
V10
Barcode (EAN):
6920255830082
Performance ( Litres / Min ): 10 L/min
Power: 10 Watt
Noise: >35dB
Pressure: >0.02Mpa
Voltage: 220-240V 50-60Hz
3 Pin UK Plug
Dimensions (mm): L 129 x W 122 x H 101
Includes: Tubing, manifold kit with 4 outlets
Completely waterproof
If you wish to run several air stones from one main air pump to aerate a large amount of water, you will need to use a Hailea V Series Air Pump.
Hailea V Series air pumps are manufactured to a very high standard and they work extremely well at delivering plenty of bubbles into your water, to provide higher oxygen levels. These are great for large hydroponic tanks and also for large aquariums to maintain a regular supply of fresh oxygen into the water to keep your fish alive.
Hailea V Series air pumps are metal cased for quiet running and they have rubber feet fitted to prevent any vibration on the surface they are placed on. These air pumps are designed to run several air stones or air curtains and they are all supplied with a manifold, to allow you to do this easily.
These air pumps are a perfect combination for a DIY DWC system, allowing you to branch your air line off to multiple pots.
Specification:
Performance ( Litres / Min ): 10 L/min
Power: 10 Watt
Noise: >35dB
Pressure: >0.02Mpa
Voltage: 220-240V 50-60Hz
3 Pin UK Plug
Dimensions (mm): L 129 x W 122 x H 101
Includes: Tubing, manifold kit with 4 outlets
Completely waterproof