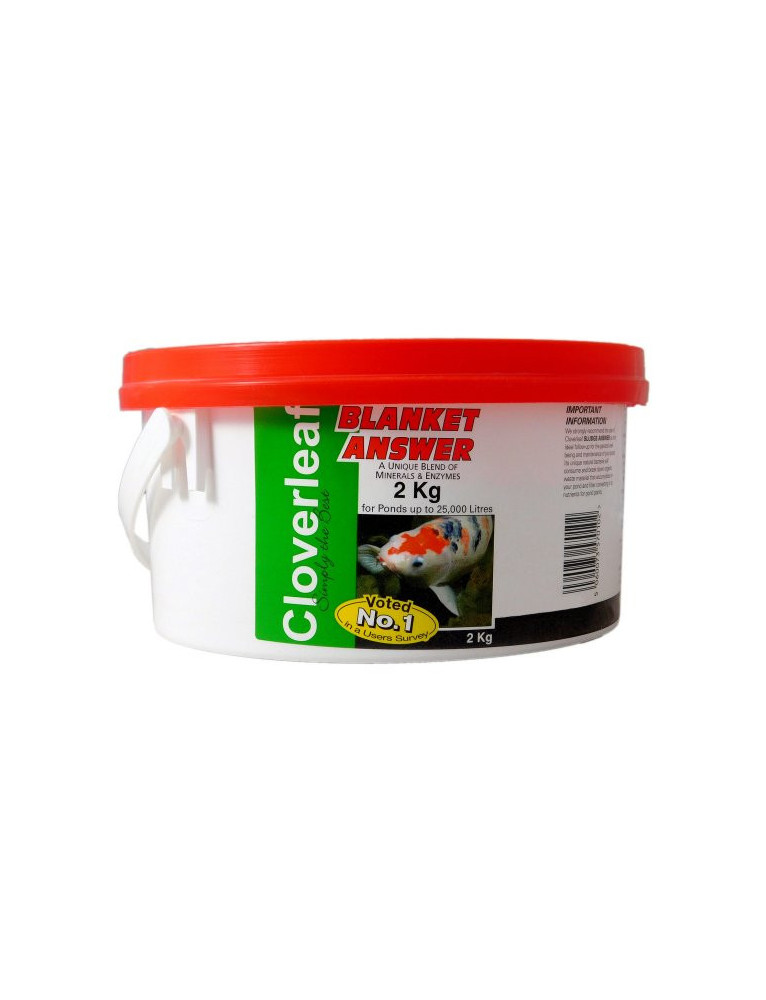  
2KG Cloverleaf Blanket Answer Treatment
VAT included
Model Number:
CLBA
Barcode (EAN):
2KG is suitable for ponds up to 25,000L
Readers Choice Award Winning Product
Blanket Answer is safe for all fish
Blanket Answer is safe for all fish, ultra violets filters and pumps must not be switched off. Extra care should be taken if river type fish are present such as * Orfe-Rudd-Roach-Sturgeon it is important to maintain a high level of saturated oxygen if present, it is recommended to add a half dose to the pond allow 2-3 days then apply the second half monitoring the pond conditions and River fish.
The pond water is safe for all healthy animals and birds to drink from, for best results Blanket Answer should be used in a constant water temperatures of 10 deg C and above, Blanket Answer can be used at lower temperatures but results will vary and cannot be guaranteed also working timescales will be extended.
The pond water will take on a milky appearance after application this may last 4-7 days depending on the pond conditions, over the next 7-10 days the blanket weed will disappear it may be necessary to add a top up dose to some ponds to finally remove all the blanket weed. Blanket Answer can be added as required to maintain a blanket weed free pond and in most cases one treatment will be sufficient but in stubborn cases we recommend a regular small top up dose every 3-5 weeks.
After using Blanket Answer we recommend adding Cloverleaf "sludge Answer" once the blanket weed has gone this will help to maintain a healthy balance in the pond by adding a unique culture of live bacteria to combat water pollution, this product is safe for all fish and the water is safe for all animals and birds.
Add Blanket Answer to a watering can of pond water sufficient water to evenly spread the required dose around the pond to be treated.
One scoop will  be sufficient for 400 L ( 90 Gallons ) of pond water.
It is recommended to use a set of kitchen scales and to use 10 Grams of Blanket Answer to 125 L ( 28 Gallons ) of pond water to obtain a more accurate treatment. 
Blanket Answer is only effective against "Blanket Weed" it will not clear green water or duck weed.
500g is suitable for ponds up to 6,250L
800g is suitable for ponds up to 10,000L
2KG is suitable for ponds up to 25,000L
4KG is suitable for ponds up to 50,000L
10KG is suitable for ponds up to 125,000L
Customers who bought this product also bought: